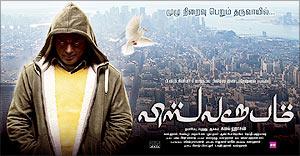 Pavithra Srinivasan says Viswaroopam's songs manage to convey a plethora of emotions, beautifully sometimes, a little faltering in other places
T
he year's most anticipated film music album is finally out. Rajkamal Films Internationals'
Viswaroopam
is written and directed by Kamal Haasan [
Images
] himself.
The album boasts music by Shankar Ehsaan Loy [
Images
], with lyrics by National Award-winning poet Vairamuthu, and Haasan. Let's take a listen to the songs.
In
Viswaroopam,
the signature theme of the album, a train screeches to the high heavens, morphing into ominous music crashing through your ear-drums, as anger and fury ripple in waves via Suraj Jagan's vocals and the chorus rendered by Siddharth Mahadevan, Raman Mahadevan, Mani Mahadevan, Shriram Iyer and Hrishikesh Kamerkar.
This sets the tone for the protagonist's character in a few concise words.
There's a truly gripping interlude with Middle Eastern flavours, before the song goes back to its roots. With thundering beats, courtesy Sivamani, and the anguish-filled ending, it certainly whips up your curiosity.
Thuppakki Engal Tholile
begins formally but soon changes track, with Benny Dayal and Kamal Haasan providing alternate English and Tamil versions, both describing the role of weapons and warfare in their lives.
The English lyrics are penned by Asif Ali Beg, while Vairamuthu takes credit for the Tamil. The instrumental arrangement is quite effective (aided by Gino Banks and Rushad Mistry), as are the lyrics.
This one starts in classical fashion: Kamal Haasan is in his element, his beautifully modulated voice declaiming the verses that are a prelude to
Unnaikkaanathu Naan,
even as Shankar Mahadevan [
Images
] lends his fluid voice to the song penned by Haasan.
Interspersed with classical beats (supplied by Sanjeev Sen, Naveen Sharma and Manoj Bhati on the tabla), and comparatively modern, romantic lyrics set to the melodious notes that deliver a combination of old and new, this number is truly charming.
Gentle sorrow seems to be the mood of
Anu Vidhaitha Bhoomiyile
. Nikhil D'Souza's voice is haunting with its promise of a world far away.
Kamal Haasan, who has written the song, takes over, making it a slow lament that tugs at the heart strings. The almost divine chorus reaches a crescendo to a background of rippling notes. "There's a place far away – I wanna be there some day …" lingers with you for quite a while after the song has ended.
Viswaroopam
(Remix) is a faster-paced version of the original signature number, rendered by Shane Mendonsa.
If there's anything Kamal Haasan has earned a name for in his long and distinguished career in the film industry, it is the novelty he brings to anything he does.
Viswaroopam
's songs manage to convey a plethora of emotions, beautifully sometimes, a little faltering in other places. On the whole,
Viswaroopam
is a pleasant listening experience.